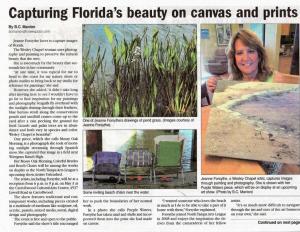 PRESS RELEASE—4/19/13
CONTACT: Jeanne Forsythe forsythedesign@verizon.net
WESLEY CHAPEL ARTIST CAPTURES PASCO COUNTY'S BEAUTY

Wesley Chapel Artist is "Unleashed"

Wesley Chapel resident and artist, Jeanne Forsythe, primarily paints and photographs Florida wildlife and coastal images. Among her work is a piece titled Mossy Oak Morning which is a photograph taken in Wesley Chapel with the morning sun streaming through the Spanish moss.
Forsythe says, "I am in awe of the beauty that surrounds us here in Wesley Chapel. At one time, it was typical for me to head to the coast for my nature shots or photo studies to bring back to my studio for reference for paintings. It didn't take long after moving here to see I wouldn't have to go far to find inspiration for my paintings and photography. Seagulls fly overhead with the sunlight shining through their feathers, Blue Herons stroll along the conservation ponds and Sand Hill Cranes come up to...